For Sale: Small Trailer
For Sale: Small Bicycle or Tricycle trailer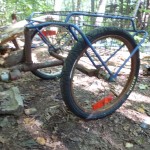 I'm selling my homemade trailer (I have ordered a new one from BikesAtWork.com, arrived yesterday).
This trailer comes with its own hitch, which is meant to clamp to the rear fork of a recumbent tadpole trike (specifically my TerraTrike Cruiser), but it should clamp to the chainstay of a conventional upright bicycle. The trailer has two wheels, with 20″ tires. There is a wire basket that is about 20″ x 14″ at the top, tapering to 18″ x 12″ at the bottom, about 9″ deep. The trailer has an overall width of about 30″. It is not super lightweight, but it is sturdy and quite suitable for use hauling stuff locally about town, such as groceries from the store / Good Neighbors or trash to the WRATS. There are red reflectors on the wheel spokes and it is (mostly) painted blue.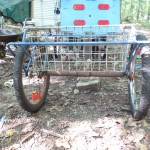 Asking $30 or best offer.
3 Comments