Wendell Old Home Day, 1999
Smokey The Bear with some local kids.
Uncle Robbie's table. Display of some H0 locomotives and H0 railroad bridge construction demonstration.
Wendell Recreation Committee table, with Ina and various helpers.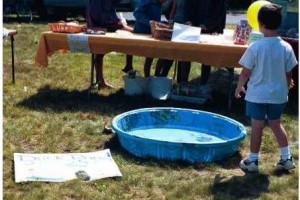 Duck "Pond" / ring toss.
Jesse Birch and Trica Sylvia. Trica is at the Recreation Committee table and Jesse is making breakfast sandwiches.
Ann Perkins and her granddaughters in front of Loriann's Egg Rolls.
Various booths and crowds about the common.
And when the Urban Family Band played, people got up and danced.
A few die hard booths, late in the day.
Mez setting up.