The Model Railroad System can help you run your model railroad in several ways, including: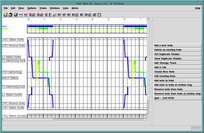 It can create timetables to run your trains on time. Schedule meets, station stops, time to perform switch moves and all the while avoiding conjestion and allowing your trains to operate smoothly on your main lines. The Time Table program can create customized timetables that can be printed out and distributed to your operators or visitors of your model railroad.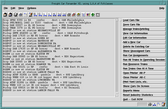 It can create switchlists to help you forward freight along your railroad and even exchange freight with offline railroads and industries. The Freight Car Forwarder program keeps track of all of your rolling stock, including where the cars are and if they are loaded or empty. It determines where to move the cars to for loading or unloading. It only moves the proper sorts of cars to your industries and only if there is enough room on the sidings.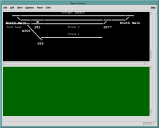 It can help you create CTC or local tower control panels virtually on your computer screen to control your layouts turnouts and signals, using Bruce Chubb's C/MRI I/O boards, Azatrax's USB-based sensors and effectors, or using stationary DCC decoders. It can talk to your DCC system to directly run (and dispatch) your trains, either automatically or under manual control from your computer screen or with a Rail Driver controller. The Dispatcher program, along with the C/MRI, Azatrax, Rail Driver, and DCC libraries and utility programs provide you with the tools create dispatching programs of any complexity.
And there are additional programs to help you with more mundane activities like calculating dropping resistor values, how many cars you can pull with your locomotives, and exactly which lens and camera position to get the perfect shot of your model or of a scene to use as a photographic background for your model. To download the Model Railroad System, visit the download page today!