Now available Release Candidate 1 of 2.2.1. Changes for 2.2.1 consist of:
Update for new Darwin (MacOSX) build infrastructure and restored MacOSX build infrasturure to configure.ac
Cleanup build infrastructure:

Fix autotools warnings/errors,
Renamed configure.in to configure.ac,
Renamed INCLUDES to AM_CPPFLAGS in C++/*/Makefile.am

Updated LCC code:

Layout Control Database features,
Event search in CDI improvements,
LayoutDB <=> JMRITable,
Add Copy/Paste buttons to CDI strings,
All LCC Memory Leaks pluged,
OfflineLCCNodeEditor

Complete Linux Gpio test programs
Dispatcher fixes:

Add in Graphviz graph layout,
fix graph node compression bugs (deal with Block boundries properly),
update parser for XTrkCAD V12 files

Start on EquipmentInventory and FCF3
Downloadables:
Current Release (Jun 7, 2021): Version 2.2.0 of the Model Railroad System! Visit the Model Railroad System Download page and download a copy today!
Are you looking for Model Railroad related circuit boards? Visit The Country Robot, our hardware oriented sister site.
Do you have a model railroad empire, large or small?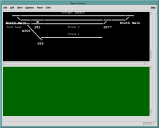 The Model Railroad System is a software package that can help you run your railroad. Download the Model Railroad System now and operate your layout, from running trains to working your signals and switches. This software package has support for a network of Bruce Chubb CMR/I USIC, SUSIC, and/or SMINI nodes and/or a network of Lenz's XPressNet DCC nodes. It also supports Azatrax USB-connected Model Railroad Detectors, a CTI Acela network, and now OpenLCB. This include both libraries to interface to the various hardware devices (sensors, signals, and actuators) and a program to create CTC panels to provide control of the hardware by your dispatcher. Software to create switch lists for freight car forwarding and creating timetables for your railroad are included. There is software to help with photographing of your trains and to compute the correct value for those pesky dropping resistors for LEDs and/or incandescent lamps. If you have a model railway, large or small, this software package will help you out.
Do you have industries and yards and a collection of freight cars?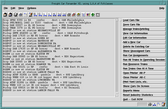 The Model Railroad System can help you forward freight on your railroad. Download the Model Railroad System now and use the Freight Car Forwarder to manage your freight operations. The Freight Car Forwarder is a sophisticated program that keeps your "freight" on the move, from yard to yard, from industry to industry, and town to town. The Freight Car Forwarder also helps you keep track of where your freight cars are and whether they are loaded or empty. It makes sure only the proper sorts of cars are routed to your industries and only as many cars as will fit on the available industrial sidings.
Do you run scheduled trains?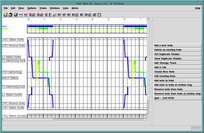 The Model Railroad System can help you create employee time tables for your railroad. Download it now and use the Time Table program to create your time tables. Timetables can be customized with logos, route maps, and rulebook text. LaTeX is used as the formatting system and this allows very for handsome printable Timetables to be created. As an example you can download the LJ and BS timetable.
Are you looking for a full featured software package for model railroading?
The Model Railroad System is the software package you are looking for!
It is all available for download the Model Railroad System now…